PIAGET CELEBRATES INDEPENDENT FILM'S FINEST AT THE 31st ANNUAL SPIRIT AWARDS
PIAGET CELEBRATES INDEPENDENT FILM'S FINEST AT THE 31st ANNUAL SPIRIT AWARDS
Jessica Chastain, Brie Larson, Jessica Biel And More Radiate In Piaget On The Red Carpet
For the ninth consecutive year, Piaget co-hosted the Film Independent Spirit Awards, a star-studded affair paying tribute to the top performers, writers, directors and producers in independent film. The event attracted the biggest names in Hollywood including honorary chair and Piaget international brand ambassador, Jessica Chastain, as well as stars of the most notable independent films such as Cate Blanchett, Brie Larson, Rooney Mara, Idris Elba, Jason Segel and Paul Dano among others.
"Piaget is proud of its continued partnership with Film Independent and proud to support the finest talent in independent film," said Piaget CEO, Philippe Leopold-Metzger. "We have always championed bold and unexpected creations, which makes our relationship with the Spirit Awards a perfect fit."
The Extremely Piaget jewelry collection was the ultimate accessory for the day's brightest stars, including Jessica Chastain who wore an 18-carat white gold necklace set with sapphire beads, emeralds and diamonds. Inspired by some of the most beautiful and breathtaking designs in its archives, the Extremely Piaget collection is a dazzling display of diamonds, emeralds, sapphires, hard stones and intricate gold work showcasing the maison's passion for radiant and charismatic creativity. Presenter Jessica Biel also chose a stunning 18-carat white gold Extremely Piaget ear cuff with diamonds and sapphires with an Extremely Piaget 18-carat white gold diamond ring and two 18-carat white gold Possession rings.
Piaget's iconic Possession and Rose jewelry collections were also once again a favorite amongst the afternoon's leading women. Brie Larson, the Spirit Award winner for her role in 'Room', dazzled in Piaget's newest 18-carat white gold and diamond Possession bracelets with matching Possession rings and a set of Piaget Rose earrings. Presenter Emilia Clarke opted for a pair of 18-carat rose gold Rose earrings with rose gold Possession and Rose rings. 'Anomalisa' nominee, Jennifer Jason Leigh, wore a Piaget Limelight timepiece with a Piaget Rose ring and Dree Hemingway chose a set of Piaget Rose earrings and a Piaget Possession ring.
Once again, the Piaget Altiplano was the preferred timepiece for Hollywood's leading men. Nominees Ben Mendelsohn and Paul Dano both chose the ultra-thin timepiece to pair with their red carpet looks. Mendelsohn, nominated for Best Male Lead in 'Mississipi Grind', wore the 40mm Piaget Altiplano Date in 18-carat rose gold, while Paul Dano, nominated for Best Supporting Male in 'Love & Mercy', wore his own 40mm Piaget Altiplano in 18-carat white gold. Presenter Anthony Mackie opted for a limited edition Piaget Emperador Coussin in 18-carat white gold.
Social media superstars Kristina Bazan and Fiona Zanetti both chose Piaget for the awards show ceremony. Bazan wore a matching bangle and cuff from the newest Extremely Piaget capsule collection with a Piaget Possession ring, while Zanetti opted for a suite of Piaget Rose jewelry. Portuguese actress Maria João Bastos also selected a suite of jewelry from the Extremely Piaget capsule collection.
Haitian–Swiss model, Alizée Gaillard, chose an Extremely Piaget necklace, Former Miss Switzerland, Lauriane Gilliéron, wore the new Limelight Gala Milanese with a set of Extremely Piaget earrings, and her sister, Melody Gilliéron, wore a set of Couture Précieuse earrings. Sandra Bauknecht, editor in chief of L'Officiel Switzerland, wore a pair Extremely Piaget earrings with a matching ring. German actress Veronica Ferres and model Lena Terlutter both wore Extremely Piaget cuffs, while Anne Klug wore a Piaget Rose ring. DJ and rock star royalty, Alexandra Richards, chose an 18-carat rose gold Piaget Possession sautoir to accent her her orange cocktail dress.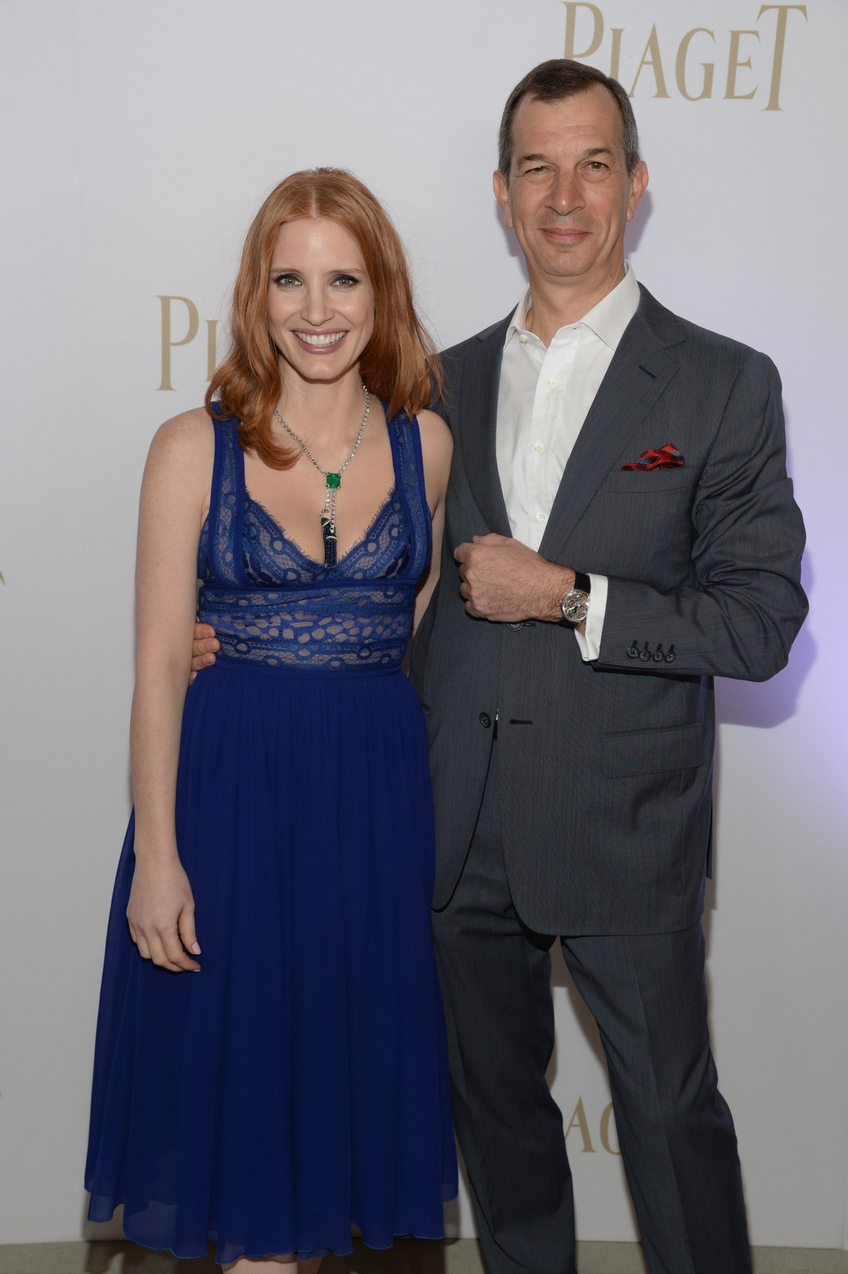 Jessica Chastain & Piaget CEO, Philippe Leopold-Metzger
Recognized for her contributions to Independent Film, Mel Eslyn was the recipient of the Piaget Producer's Award. Presented by honorary chair, Jessica Chastain, the award features a $25,000 grant and is given to emerging producers who demonstrate creativity, tenacity and vision, and produce quality independent films, despite limited resources. Eslyn, who wore a suite of Piaget Possession jewelry in white gold, is known for her work on 'The One I Love', 'Lamb', 'Uncle Kent 2', and 'Your Sister's Sister'.
Following the awards ceremony, Piaget joined Film Independent in hosting the first ever official after party, toasting the achievements of the day. Winners, nominees and friends of the Maison, joined Philippe Leopold-Metzger in Piaget's exclusive backstage VIP lounge to celebrate the maison's support of independent film and emerging talent, while taking a peak at the latest Piaget creations.
The Friday evening before, Piaget hosted an elegant cocktail party at a glamorous villa in the Hollywood Hills to celebrate its longstanding relationship with Film Independent and kick-off the 31st annual Independent Spirit Awards. Piaget international brand ambassador, Jessica Chastain, was among the attendees. She was joined by 'Hunger Games'', Meta Golding, 'Orange is the New Black's' Matt McGorry, Kristina Bazan, Eric Rutherford, David Bernon, Cameron Fuller, George Kotsiopoulos, Sophie Elkus, Maria Bastos, Lauriane Gillieron, Piaget Grant winner Mel Eslyn, as well as, Keith Richard's daughter, Alexandra Richards, who entertained the evening's guests with a soundtrack featuring remixed classics.