PIAGET Celebrates Its New Rodeo Drive Boutique and Debuts the Extremely PIAGET Jewelry and Timepiece Collection
PIAGET Celebrates Its New Rodeo Drive Boutique and Debuts the Extremely PIAGET Jewelry and Timepiece Collection
Jessica Chastain Dazzles in Piaget's New Extremely Piaget Collection
Piaget strengthened its longstanding ties with Hollywood by opening its largest flagship boutique in the United States on Beverly Hills' famed Rodeo Drive, and debuting the 'Extremely Piaget' collection of extraordinary jewelry and timepieces, all inspired by archival designs from the 60s and 70s.
Leading lady and Oscar nominee, Jessica Chastain, was among the stars attending the affair and arrived wearing a dazzling gold, turquoise and diamond necklace. She was joined by Game of Thrones' Natalie Dormer, Glee's Dianna Agron, American Hustle's Elisabeth Rohm, Hunger Games' Meta Golding and Pretty Little Liars' Sasha Pieterse, all wearing Piaget jewels. Also in attendance were LA notables Sutton Stracke and Julia Sorkin, along with Decades' founder Cameron Silver and celebrity stylist Jeff Kim. DJ and rock star royalty, Alexandra Richards, entertained the evening's guests with a soundtrack featuring remixed classics from the 1970s.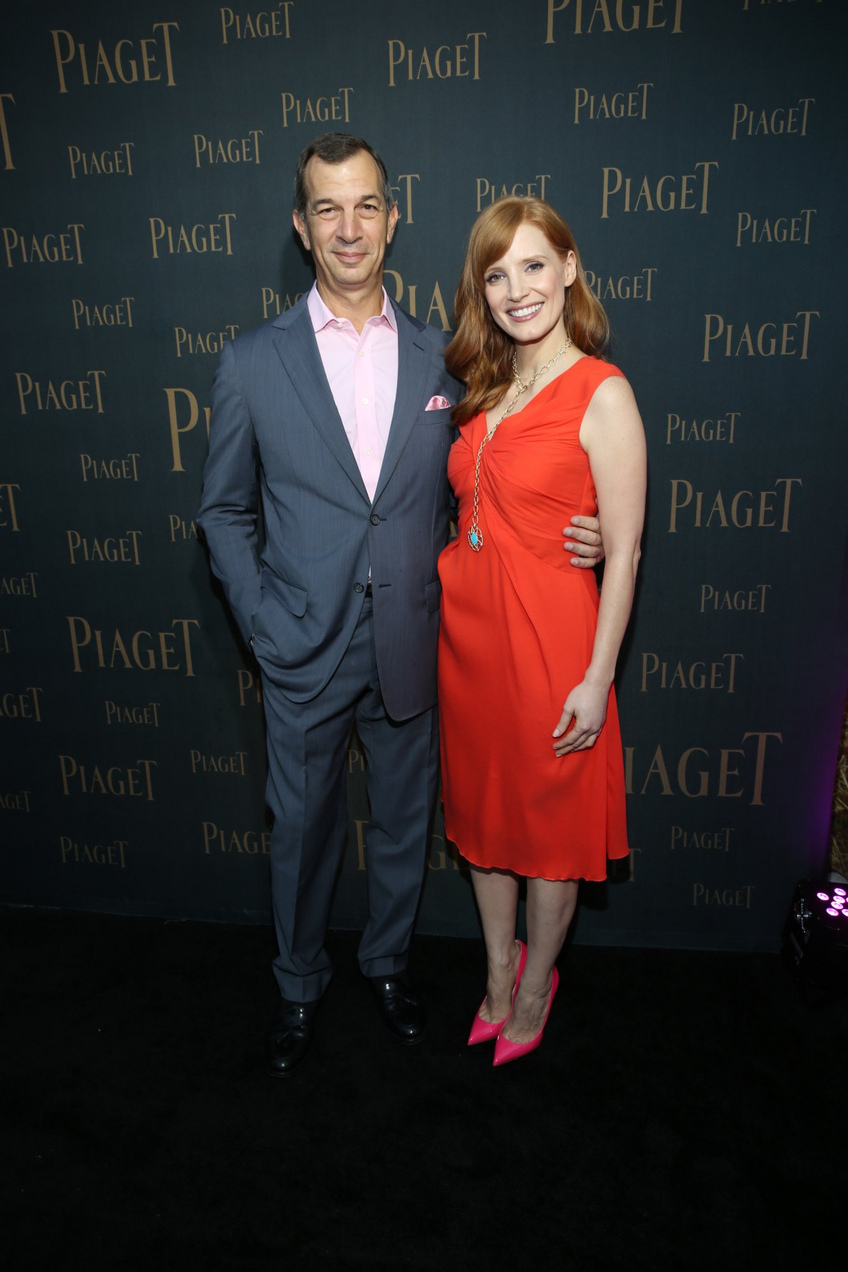 Philippe-Léopold Metzger & Jessica Chastain
"Los Angeles is one of the world's great cities and Rodeo Drive is its most glamorous address. We've been looking for the perfect location for quite some time and I am happy that we have officially opened today," said Philippe Léopold-Metzger, CEO of Piaget. "This will also enable us to be closer to our friends in the film and entertainment world with whom we have such strong ties."
Created for Piaget's 140-year anniversary and presented at this year's Paris Biennale des Antiquaires, the Extremely Piaget collection features more than 120 pieces of watches and jewelry. The 'Extremely Colourful' pieces are highlighted by unique gold, turquoise and diamond creations, while others feature emeralds and coloured gemstones. Marquise-cut diamonds are the signature of the 'Extremely Sparkling' pieces, ranging from red carpet necklaces to exotic ear cuffs. "For me, Extremely Piaget is the perfect embodiment of that jet-set Hollywood glamour from the 60s and 70s, that is more relevant today than ever before," added Mr. Metzger."
The evening's celebration was held in partnership with the American Ballet Theatre (ABT), which is marking its 75th anniversary. Earlier in the week, ABT and Piaget co-hosted a cocktail party in honor of the re-opening of the House's recently renovated Fifth Avenue flagship, as a kick-off to ABT's upcoming fall gala.
Piaget has stood as an icon of excellence and creativity since its founding in 1874, elevating the manufacture of fine jewelry and timepieces to an absolute art. The firm is known for its elegant and avant-garde designs, ultra-thin movements and artistic dials, as well as complications including chronographs, tourbillons and perpetual calendars. Piaget is one of the only remaining watchmakers that designs and crafts its own cases, bracelets and movements. In 2014, Piaget is enhancing its presence in the US with the opening of its first boutique in Beverly Hills at 323 N. Rodeo Drive, and the complete renovation of its New York flagship boutique at 730 Fifth Avenue.