PIAGET DEBUTS THE NEW POSSESSION COLLECTION AT A ROOFTOP LUNCH FOR NEW YORK'S MOST FASHIONABLE
PIAGET DEBUTS THE NEW POSSESSION COLLECTION AT A ROOFTOP LUNCH FOR NEW YORK'S MOST FASHIONABLE
Alexa Chung, Alexandra Richards, Harley Viera-Newton and Others Join Piaget to Celebrate the Jewelry Launch
Friends of Piaget gathered on the rooftop of the NoMad hotel in New York's Flatiron District for an intimate luncheon and preview of the newest Piaget Possession collection. Larry Boland, President of Piaget North America, hosted the event and was joined by a group of New York's most social media savvy and chic women, including Alexa Chung, Alexandra Richards, Harley Viera-Newton, Athena Calderone of Eye Swoon, beauty expert and founder of Into the Gloss Emily Weiss, Hanneli Mustaparta, Arielle Nachmani of Something Navy, Pari Ehsan of Pari Dust, founder of StyleScrapbook Andy Torres and Flower Girl NYC founder, Denise Porcaro.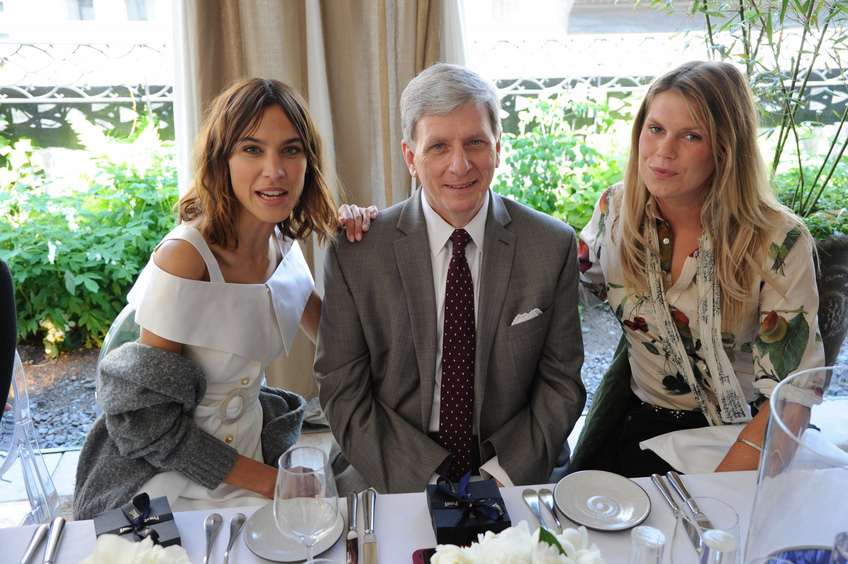 Alexa Chung, Larry Boland & Alexandra Richards
Guests were swept away as they entered the breathtaking space, which had been transformed to echo the collection's circular theme. The new Possession pieces were displayed in the NoMad's historic round cupola, while a three-course lunch, prepared by Chef Daniel Humm, was served at two dramatic long tables set between circular arches covered in blooming white blossoms. Running down the center of each table were rotating displays of Piaget Possession jewelry set between bouquets of white peonies in round-cut crystal vases.
The new Piaget Possession collection features 16 pieces of simple, chic jewelry, perfect to wear everyday. Handcrafted in 18-carat white or rose gold and accented with brilliant-cut diamonds, the collection includes a range of rings, pendants, earrings and a statement bangle. Rings are available with a single diamond or rows of diamonds and all have the signature Piaget Possession turning feature, allowing today's modern woman to take a special moment for herself when she stops to reflect and turn her ring. The collection officially debuts worldwide on Friday, May 15th.